Omni Block is happy to announce that a formal business relationship has been consummated with MortarNet (www.mortarnet.com). MortarNet has a "perfect" water solution for exposed Omni Block walls. The solution is a flashing as illustrated below.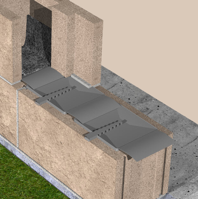 The plastic flashing tray is placed below the finished floor and above grade. Testing has proven that any moisture that would enter inside the block can drain down the wall and be captured by the flashing trays and then out the wall. The flashing totally protects the interior from moisture.
We have added the BlockFlash product to our library of design details.