The use of Sketch Up to illustrate block walls help builders and masons visualize block bond, window and door locations, and electrical box and conduit placement.
The illustration below (double click for enlarged view) is a Sketch Up file of a 4800 sq. ft. residence in Scottsdale that is currently under construction.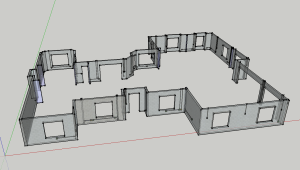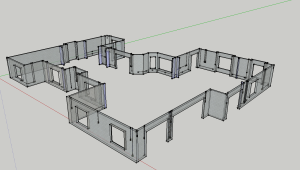 The electrical box and conduit locations are clearly identified below (double click for an enlarged view). The color-coded boxes (green-interior, yellow-low voltage, and orange-exterior) provides the builder, mason, and homeowner a much better idea of where the electrical is to be placed. The illustration depicts a kitchen interior wall. The horizontal runs are 3/4″ PVC conduit. The lavender walls denote interior wood frame partition wall locations.